How do I log into my Cloakbox VPN Router?
First, make sure this computer is connected to your CloakBox via WiFi (wireless) or Ethernet (cable).
To log in to your CloakBox please click here: 192.168.20.1
Note: The above is the default address we ship the CloakBox VPN routers with. If you have reset your router at any point, you may need to use one of these alternate links: 192.168.11.1 – or – 192.168.1.1
If the link does not work, please copy the link or just type it directly into the address bar in your browser.
You will be prompted for a username and password. Enter the details provided with your CloakBox. Default settings are as follows:

Username = admin (must be all lowercase)
Password = your customer number – see below for further details

The password was included in the box with your the router. Please check under the lid – or – in the welcome letter that came with it.

You can also view your customer number by logging in to your portal account, CLICK HERE TO LOG IN
Your customer number will be shown at the top of the page, next to your referral code.
How do I change the VPN location on my AsusWRT CloakBox VPN Router?
1) Log in to your dashboard here. Then, next your CloakBox order # click View Credentials


2) Scroll to the bottom of the popup that appears, and click Generate OpenVPN Configuration File


3) In the Download OpenVPN Configuration popup that comes up select the VPN gateway you wish to connect to and click Download. In this exampled we've selected Atlanta.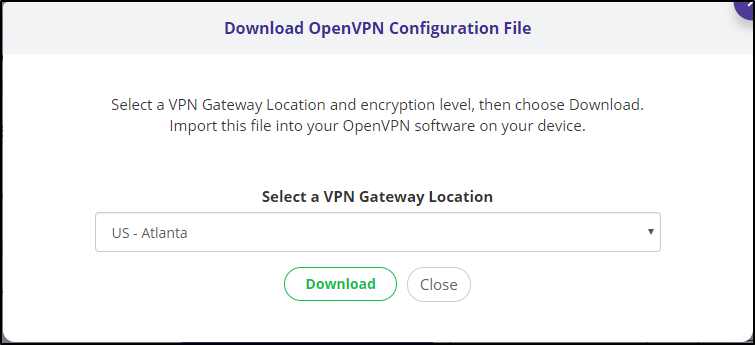 The file will download to the folder where you usually download files from the internet
(Note: By default, this is the 'Downloads' folder on both Mac and Windows)
4) Next, log in to your router to upload the config you just downloaded into your router
5) Once you've logged in to your CloakBox, go to: VPN > VPN Client tab > Add profile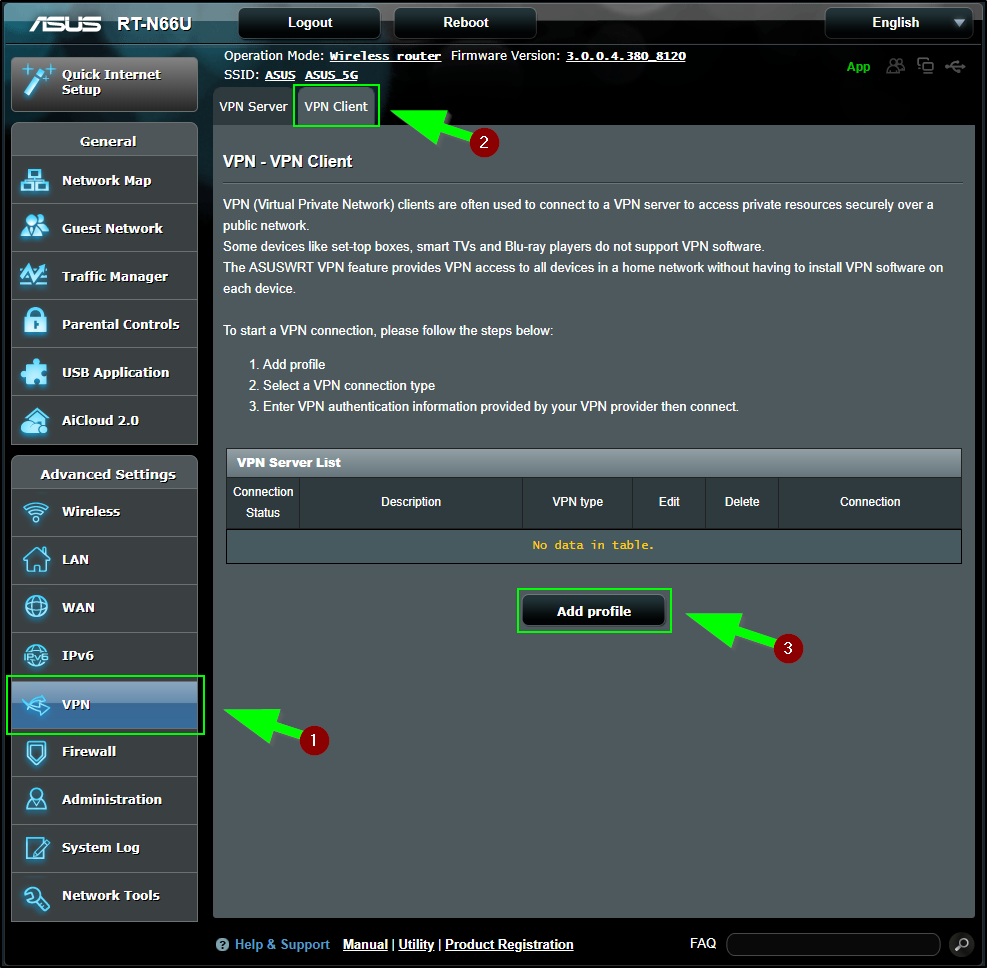 6) In the next window select the OpenVPN tab > Give the profile a Description > Click Choose File > Navigate to and select the .ovpn file you downloaded in step #1. Then, click Upload
(Note: For this example I chose Atlanta, so the file is named vpn.atl.witopia.net (where atl = Atlanta). Your actual file may have a different name ending in .ovpn)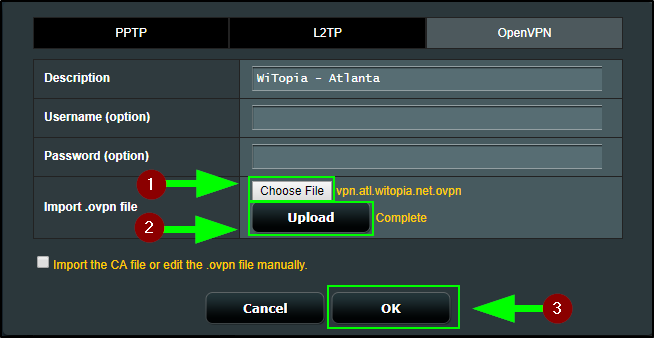 7) When Complete appears, click OK to close this window
8) Then, click Activate and wait for the check to appear under Connection Status
(Note: If you area already connected, you will need to click Deactivate to disconnect before connecting the new config.)


9) You've successfully connected your VPN! To disconnect simply click Deactivate
10) You can add more profiles – up to a max. of 5 -by repeating the steps above, and you may toggle between them as you wish by clicking Deactive/Activate
How do I get the VPN logs from my AsusWRT CloakBox VPN Router?
1) Log in to your CloakBox
2) Click System Log from left menu
3) Click General Log tab at the top
4) Click inside the log box, then copy-and-paste the log and send it to us
For Windows: Press the CTRL+A keys on your keyboard to select all > Then press CTRL+C to copy > Press CTRL+V to paste
For Mac/Apple: Press the CMD+A keys on your keyboard to select all > Then press CMD+C to copy > Press CMD+V to paste
Alternately: You may click Save to save the log. Then the log file will download to where you normally download files. You can send us the log file via email as an attachment.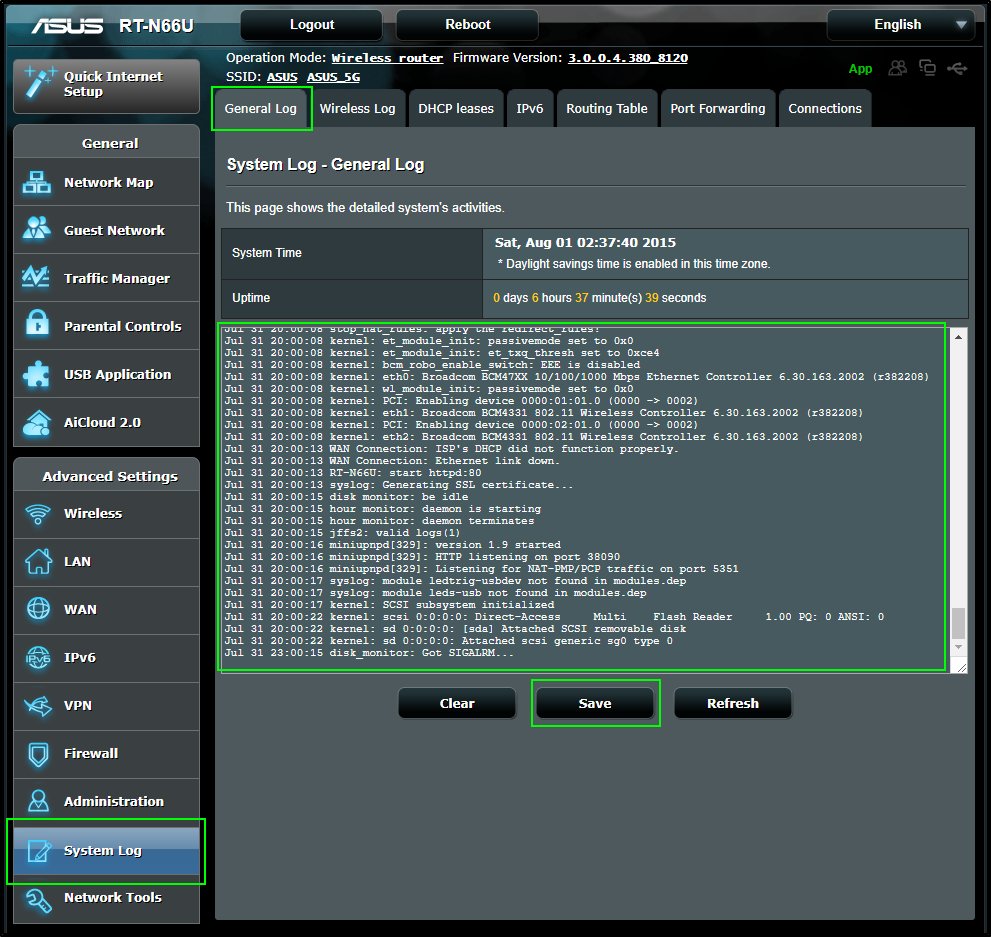 How do I change the WiFi key or password on my AsusWRT CloakBox VPN Router?
1) Log in to your CloakBox
2) Click Wireless from left menu
3) Choose 2.4 or 5ghz from the Band drop down to select which band/network you wish to manage
4) Enter the wireless name you want in the Network Name (SSID) field
5) Enter the wireless password you want in the WPA Pre-Shared Key field
6) Click Apply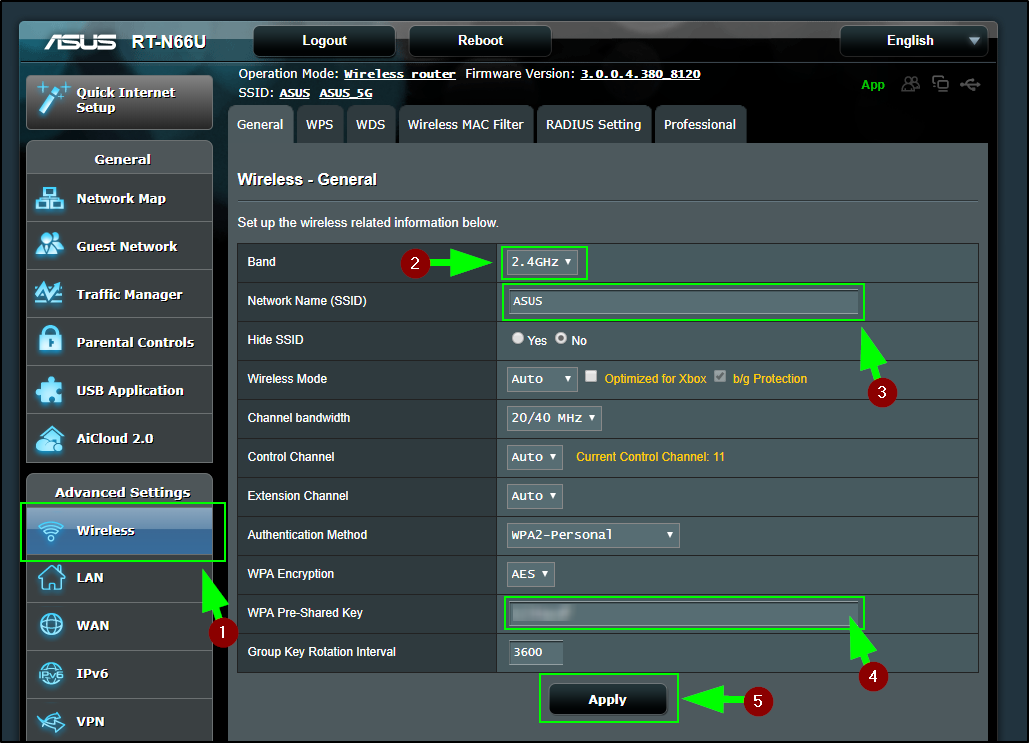 How do I change the DNS on my AsusWRT CloakBox VPN Router?
1) Log in to your CloakBox
2) Click LAN from the left menu
3) Click DHCP Server tab
4) Input the DNS Server you want to use in the DNS Server box
Click here for DNS providers you can use
5) Click Apply