How do I set up my VPN Router?
To setup your DIY VPN router you will need a router that has the proper firmware on it.  At this time you will need to install the Asuswrt-Merlin firmware

Asus Routers with Asus WRT
 1. First, download your configuration file Generate your OpenVPN config file
DOWNLOAD BUTTON HERE!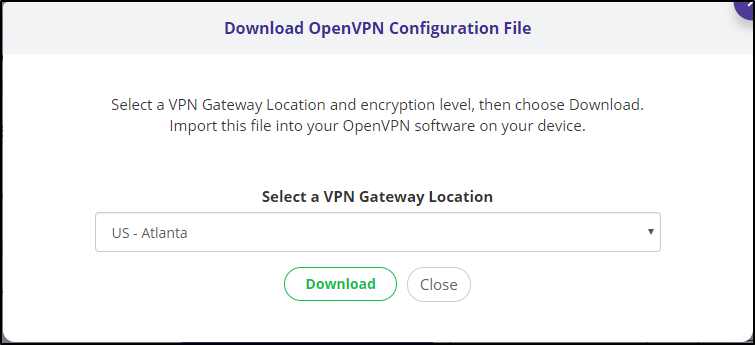 2. The file will download to the folder where you usually download files from the internet
(Note: By default, this is the 'Downloads' folder on both Mac and Windows)
3 Next, log in to your router to upload the config you just downloaded to your router (To log in to your router, connect to the router via Ethernet (preferred), or WiFi. In your web browser's address bar go to: 192.168.1.1 (most routers) – or – 192.168.50.1 (RT-AC66U B1). Then enter your username and password for the router. If neither of those addresses work, then you may have changed your router's default address, and need to use your router's correct address instead).
◦ Once you've logged in to your router, go to: VPN > VPN Client tab > Add profile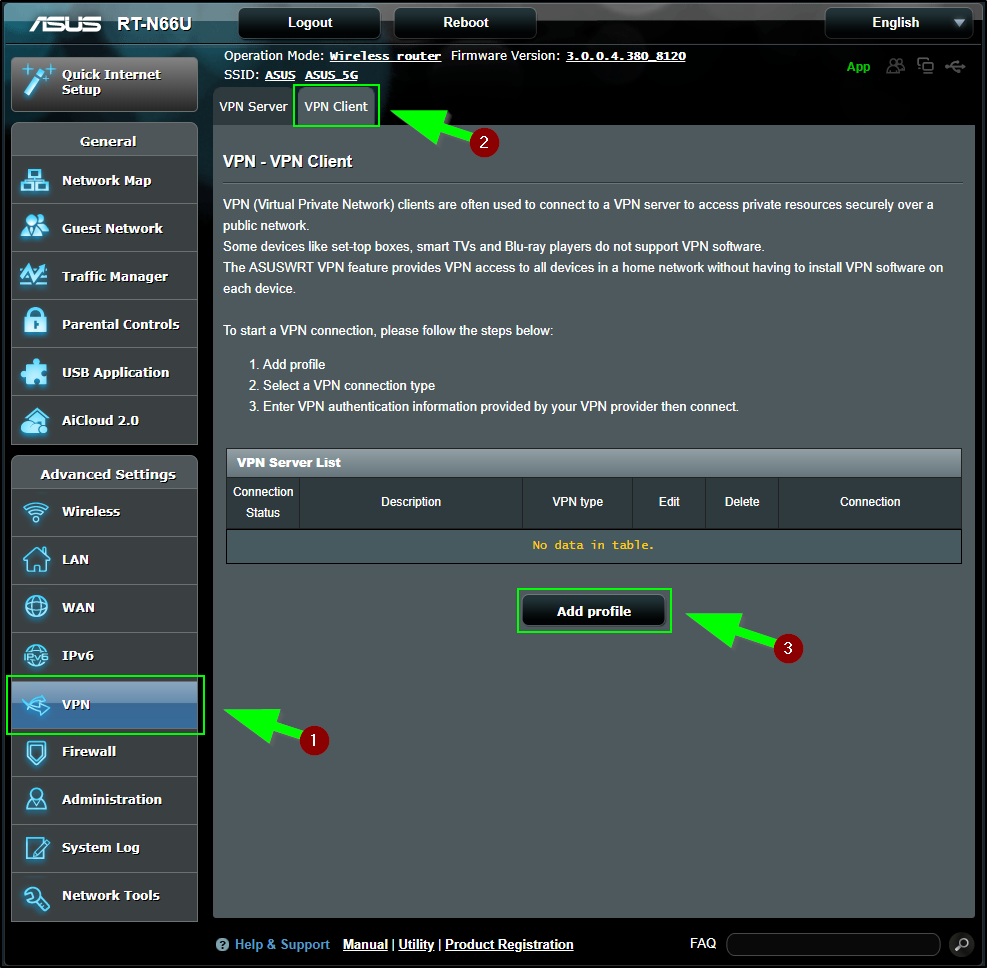 ◦ In the next window select the OpenVPN tab > Give the profile a Description > Click Choose File > Navigate to and select the .ovpn file you downloaded in step #1. Then, click Upload
Note: Because we're nerds, we use airport codes for our VPN cities. Click here if you need to look one up. For this example, we chose Atlanta, so the file is vpn.atl.witopia.net (where atl = Atlanta).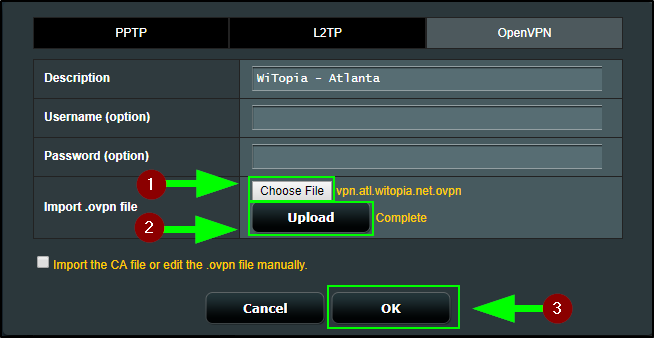 ◦ When Complete appears, click OK to close this window
◦ Then, click Activate and wait for the check to appear under Connection Status

◦ You've successfully connected your VPN! To disconnect simply click Deactivate
◦ You can add more profiles by repeating the steps above, and you may toggle between them as you wish – Enjoy!
Feel free to check an IP address tester online to confirm that the VPN connection is working.
If you see a problem with authentication, retry the above steps or repeat the process with a different .ovpn configuration file.
To change VPN locations, you can Deactivate and upload different .ovpn files. Or, if you have already, you can toggle between cities by choosing Deactivate and then Activate a different one in your VPN Server List.
Note: We don't recommend using the VPN Router as your primary router. It's best to either plug it into the back of your primary router or have it plugged into another internet source. That way you have your main connection for most things and your VPN network when you need it.