FeatVPN for Android OpenVPN Setup Guide
Setup OpenVPN SSL on Android
Obtain and Setup VPN Files
Download and save the ZIP file from the portal
(click the customer login button to access the portal -> click download client software link -> click the zip file option)
Unzip the file downloaded
Edit the [INSERT SERVER NAME] with the location you want to use in the SampleConfig

For Server Locations: Click Here

Save the file as (name you choose).ovpn (the .ovpn is VERY important)
Rezip the PersonalVPN folder so you have a personalvpn.zip file

(right click on the personalVPN folder and choose: sent to -> compressed zip folder)

Connect your android device to your computer (you may need to install the drivers for your device to be able to see it. Contact your wireless provider or search on google for drivers for your device.)
Locate your INTERNAL SD-Card in explorer/finder (usually labeled SDCARD or SD-CARD) Create a new folder called VPN and place the personalvpn.zip file in the folder
Now that we have downloaded the needed files, modified the configuration and placed the files on the device we can install the software needed to make the SSL connection on your device.
Setup & Connect the VPN
Install featVPN from the play store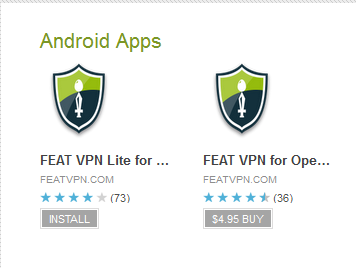 (note there is a free and paid version. WiTopia is not affiliate or associated with featvpn in anyway. Payments for the program are direct to the developer of featvpn and WiTopia is not able to refund you for these fees if you are not able to make it work, or cancel your WiTopia services.)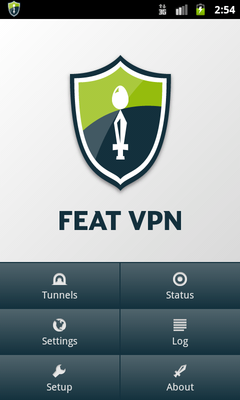 Once you have the program installed, open it from the applications menu and click on setup to setup the needed permissions. If it does not error out you can setup the SSL.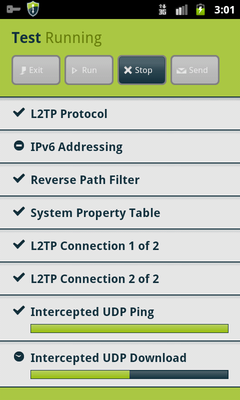 Click the back button to get back to main screen
Click on the Tunnels icon
Click the add button to add a new tunnel
Give the VPN a name (choose one that is easy to know like "WiTopia-USA")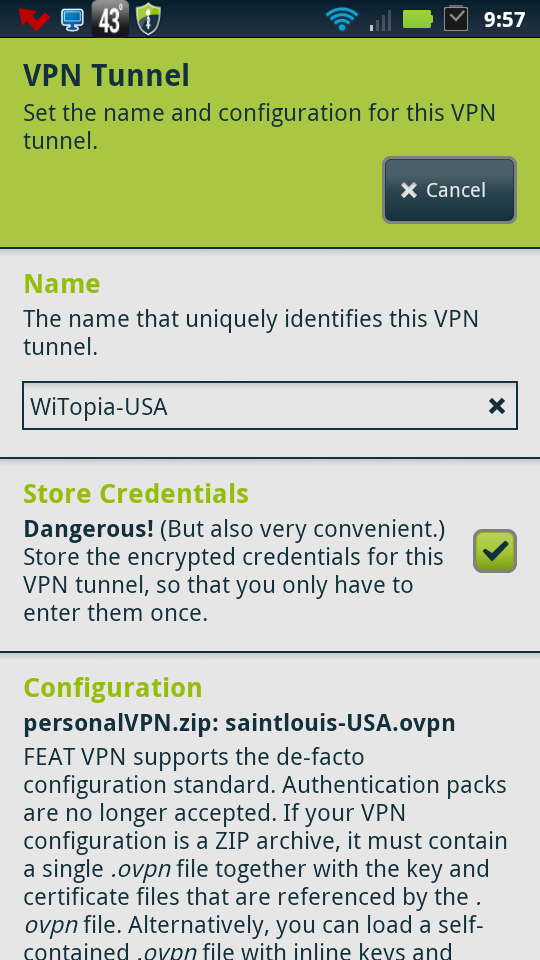 Store Credentials: Checked (check this to make it easier to connect each time)
Configuration: Click on load and then locate the VPN folder you created load the personalvpn.zip file you put there.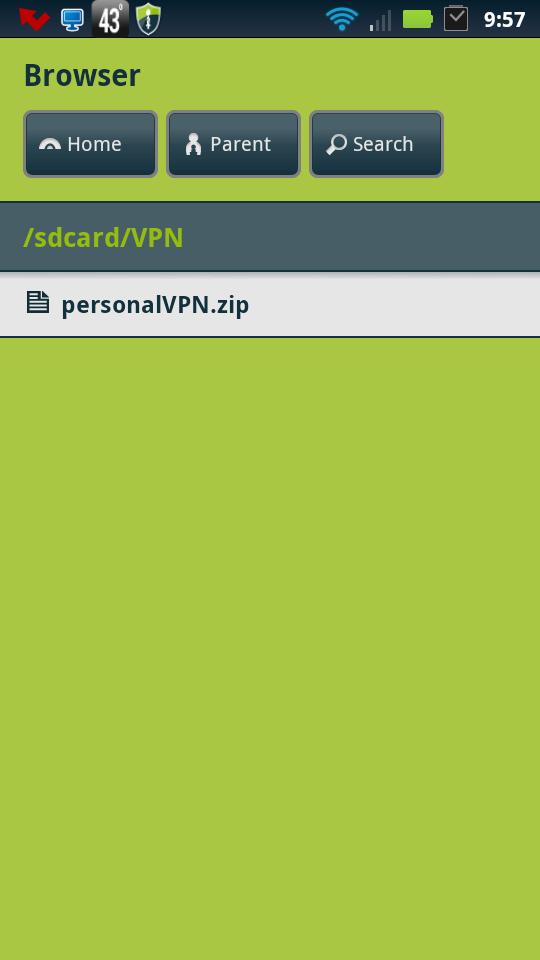 The program should read the cert, key and config files and prefill everything. If you do not see a server address along with your cert and key files loaded please check the zip flie you loaded.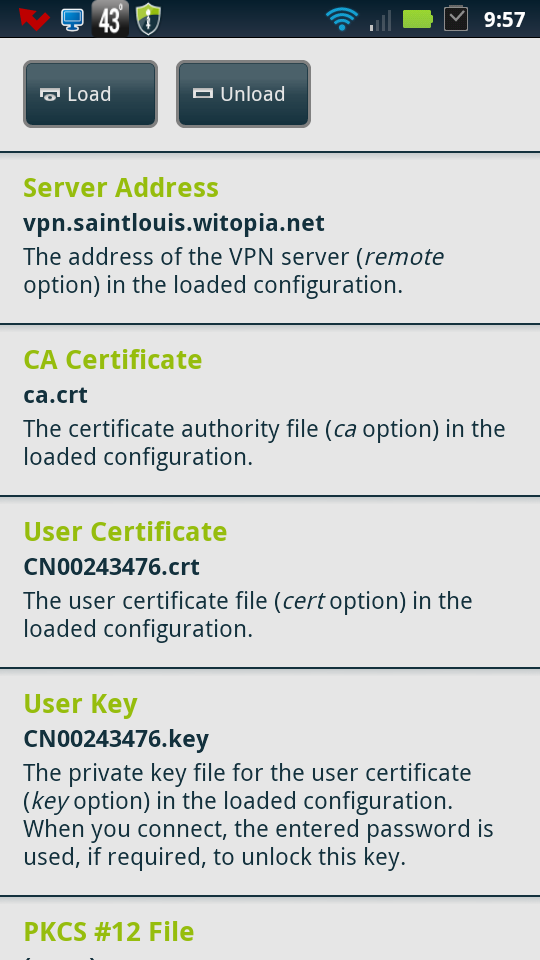 Click the back button (there is no save)
You will now see the VPN you created listed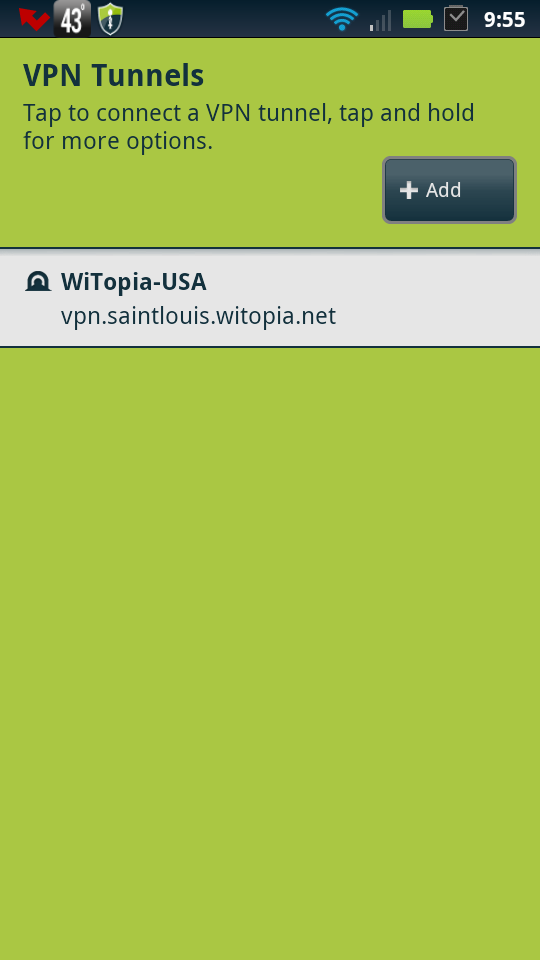 Click on the name of the vpn to connect
(to edit a config press-hold on name of vpn)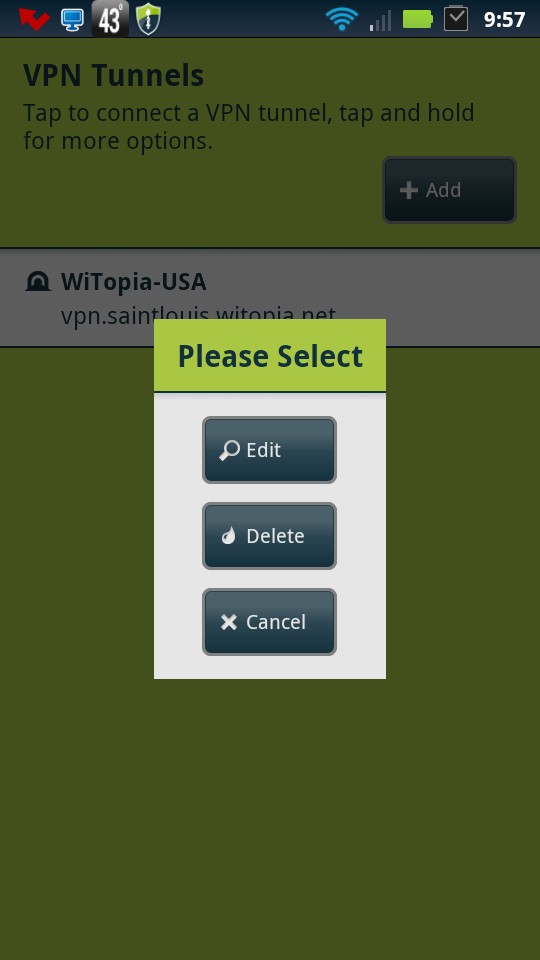 Once connected you will see the status and your local IP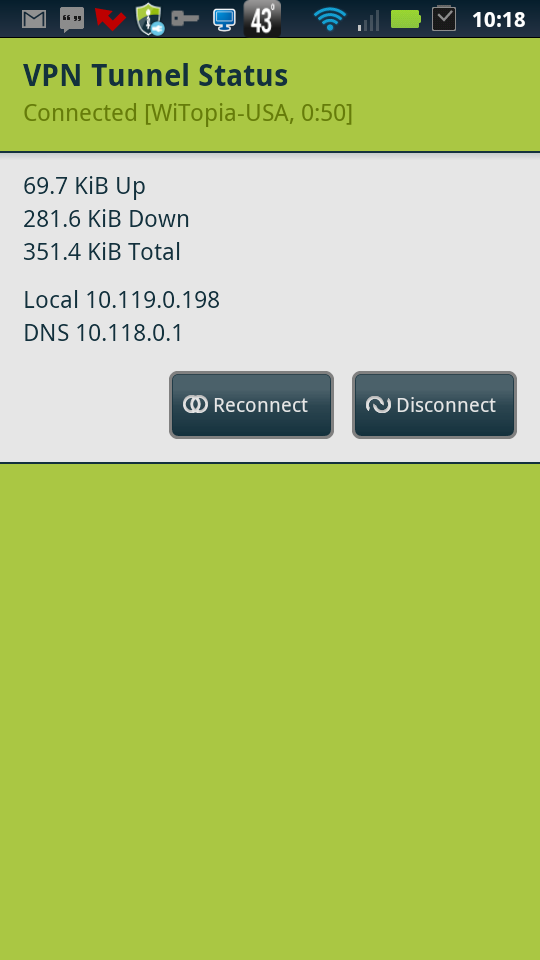 You can verify the IP is showing ours by going to http://ipchicken.com and seeing the IP that is presented.
If you have issues please see the full documentation at featvpns website (http://www.featvpn.com/#howto See #11 and #5,7,8) or contact support (support@witopia.net)
Android FAQs
How do I set the DNS on Android devices?

To change the DNS for a STATIC IP Network

STATIC IP addresses are not used over 3/4G Data networks. Please see below for the directions on how to set the DNS on a DHCP (99% of connections).

Click on Settings in your applications screen
Click on Wireless & networks option
Click on Wi-Fi settings
Click on the menu button for your phone
Click on Advanced

Click on the STATIC IP option
Fill in your local network static IP details

this does not pertain to the WiTopia VPN services and is local to your network only

Click on the down arrow for each DNS field and input a dns option

CLICK HERE for DNS Server Options for a list of locations to choose


Click the menu button to bring up the save button
Save

The DNS should now be set for this wifi network (only).

To change the DNS for a DHCP (99.99% of connections)

Google did not make this option available if you are using DHCP (most people are). You can see on their issue tracker that this is a known issue. If you are using a STATIC IP on your network though you can set the DNS on WIFI only. There is no ability to change the DNS for the cellular data network (without rooting, and hacking the phone which we do not support). If you have rooted your phone, there is a free application in the market that you can use to set the DNS for usage on wifi or 3/4G service. Please see CLICK HERE (WE CANNOT PROVIDE ANY SUPPORT OR SETUP ASSISTANCE WITH THIS APP OR ROOTING YOUR PHONE — USE AT YOUR OWN RISK)

How Do I Know My Android Is Connected?

You will know when you are connected as you will see a "KEY" symbol in the upper menubar. You can also check your notifications window to see that the vpn is connected.

Credential Storage Password Reset?

If you don't remember your password or remember ever setting one up, then you can perform a reset of the credential storage password that will delete all secure certificates, related credentials, and reset the password. This process does not delete any data. Upon attempting to connect or editing the vpn you will be prompted to create a new unique password that contains at least 8 characters.

To reset the credential storage password, do the following:

Press the home button to go to the home screen.

The home button is located along the bottom of your device. Its icon looks like a house.

The steps to get to Settings on Android can differ by device. Try one or more of the following:

Press the menu button to bring up the mini-options screen.The menu button is located along the bottom of your device. Its icon is four stacked lines. Then press Settings.
Press the clock located in the system icon tray in the lower-right corner of your screen. This will bring up a menu. Press the clock again and then press Settings.

Press Location & security.
Press Clear Storage and Confirm.

Password will be reset and credential storage cleared of all contents.

Now when you try to connect it will prompt you for a credential password, create one that you will not forget as you may be asked for it again in the future after a reboot

Android PPTP Still Not Connecting?

Try turning encryption "off" and see if it connects. Not using encryption might provide access to blocked content, as well as privatize your IP address, but it still isn't optimal for security, obviously. It would appear Android has a little way to go to best support PPTP VPNs. Note: The username/password you selected are case sensitive and need to be entered exactly as entered during registration: username@witopia (with no .net or .com on the end).

Android & Chromebook L2TP Servers

Android L2TP Servers

United Kingdom
al2tp.london.witopia.net
al2tp.nottingham.witopia.net

United States
al2tp.losangeles.witopia.net
al2tp.miami.witopia.net
al2tp.newark.witopia.net
al2tp.sanfrancisco.witopia.net