personalVPN™ IPSec Setup for iOS (Recommended)
For best security and performance, we use iOS's native VPN client. No app download required. This setup is faster, more lightweight, and closer to the wire. A straight shot to the network, with no middleman software in between also means it's more secure with less room for exposure to exploits or vulnerabilities en route. Less parts – less problems. And, it won't break every time there's an iOS update ;).
You can download your custom-made profile with out profile-builder like so:
To get started, tap here to log in to your personalVPN dashboard. (Do this from your iOS device)
Important note! You MUST use Safari on iOS to download your profile.
Then, tap Download/Setup
Tap the iOS icon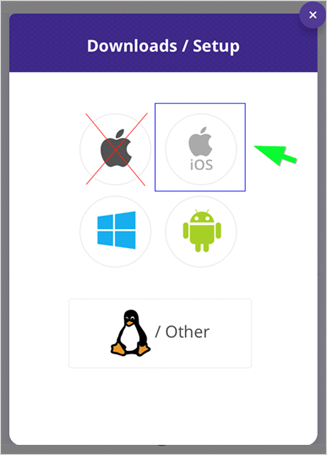 Tap Download IPSec, L2TP, or PPTP, Configuration File on the next screen.
Then, tap the Select a VPN Gateway Location dropdown to select a city. In this case we'll use Atlanta. You can select more than one at a time.
Tap done when you're done picking cities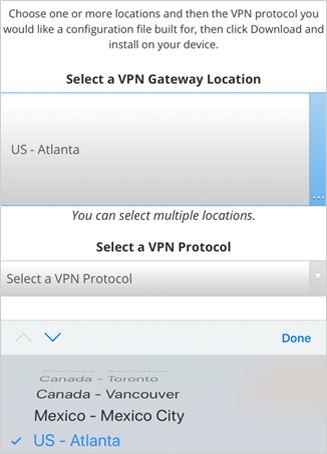 Tap to Select A VPN Protocol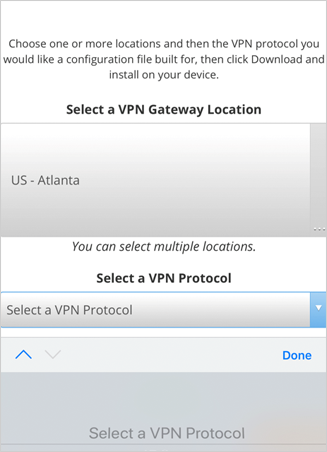 Select IPSec, then tap done
Then, tap Download
(Reminder: The download will only work in Safari)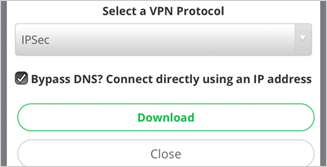 When prompted tap Allow

If you have iOS 12.2 or higher – tap close.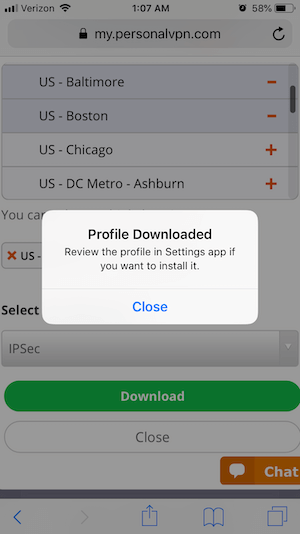 Now click on the Profile Downloaded option.
You will be taken to the Install Profile screen – tap Install.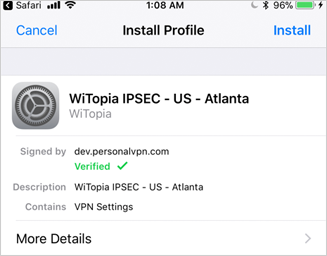 Enter your phone's passcode if prompted
Then, on the next screen, tap Install again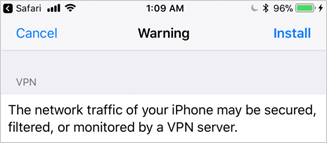 And, tap Install one more time here, to confirm: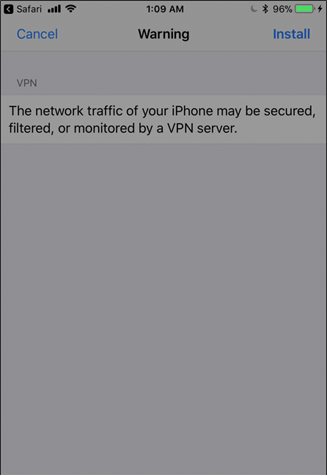 Then, tap Done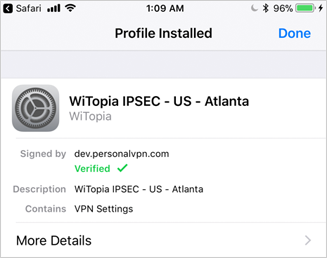 All set and ready to connect!
To connect using your shiny new VPN config, go to iOS Settings > VPN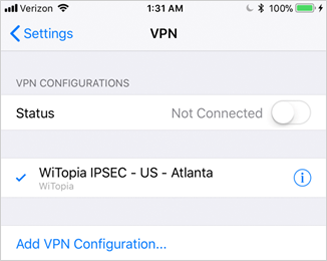 Toggle the status slider on.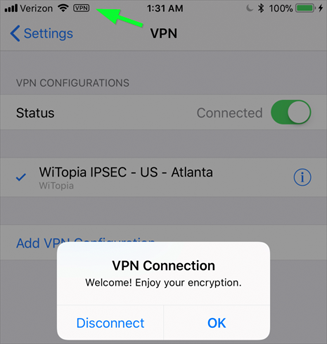 Once you're connected you will get the message above, and you will get a [vpn] indicator icon at the top of your screen.
To remove the profile(s), go to: Settings > General > Profiles on your iOS device.
Tap the profile you wish to remove.
Tap Remove Profile in the next screen with your profile details.
Enter your passcode if/when prompted.
Note: If you see "WITOPIA_IPSEC_CA" do not remove this. This is not your VPN profile. This is your IPSec certificate. If you remove this, you will need to reinstall it to make certain types of connections.